Cooperative Care Class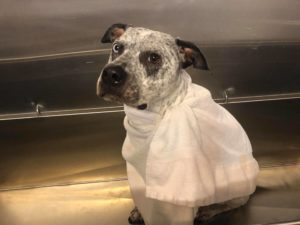 The Cooperative Care Class is a behavior modification class designed for dogs who are fearful or stressed in situations such as veterinarian examinations and/or grooming appointments.  This class is aimed at building confidence in these types of scenarios through the use of positive reinforcement and desensitization.  Students will also learn techniques to help their dogs feel more at ease with their care and handling.  Taught by an experienced groomer and  certified professional dog trainer.
---
Requirements:
An in-home consultation is not required prior to attending this class, but if your dog is displaying undesirable behaviors at home or around the neighborhood, an in-home consultation is recommended to help ensure the home environment is set up for your dog to succeed.
This class will consist of an orientation without dogs and then 5 weeks of classes with dogs.
Dogs must be at least 8 weeks of age at the start of class.  No upper age limits.
All dogs must have Rabies and DHPP vaccinations or titers.   Proof of vaccinations or titers must be brought to first class.  Dogs without proof of vaccinations or titers will not be able to participate.  Pre-registration and pre-payment required.
Pre-registration with pre-payment is required.
Due to the nature of this class, we ask that only adult handlers attend class.
Tuition: $145.00
Duration: Once a week for 6 weeks; First class is orientation, without dogs
Class Size: 4 Dogs Maximum
---
Click on Date to Register
---
Fridays
noon-1:00pm
Jesi Kirk
Raleigh Location, Suite 125
Jan 11, 2019 | Mar. 22 2019 | Jun. 7, 2019 | Aug. 16 2019 | Oct. 18, 2019